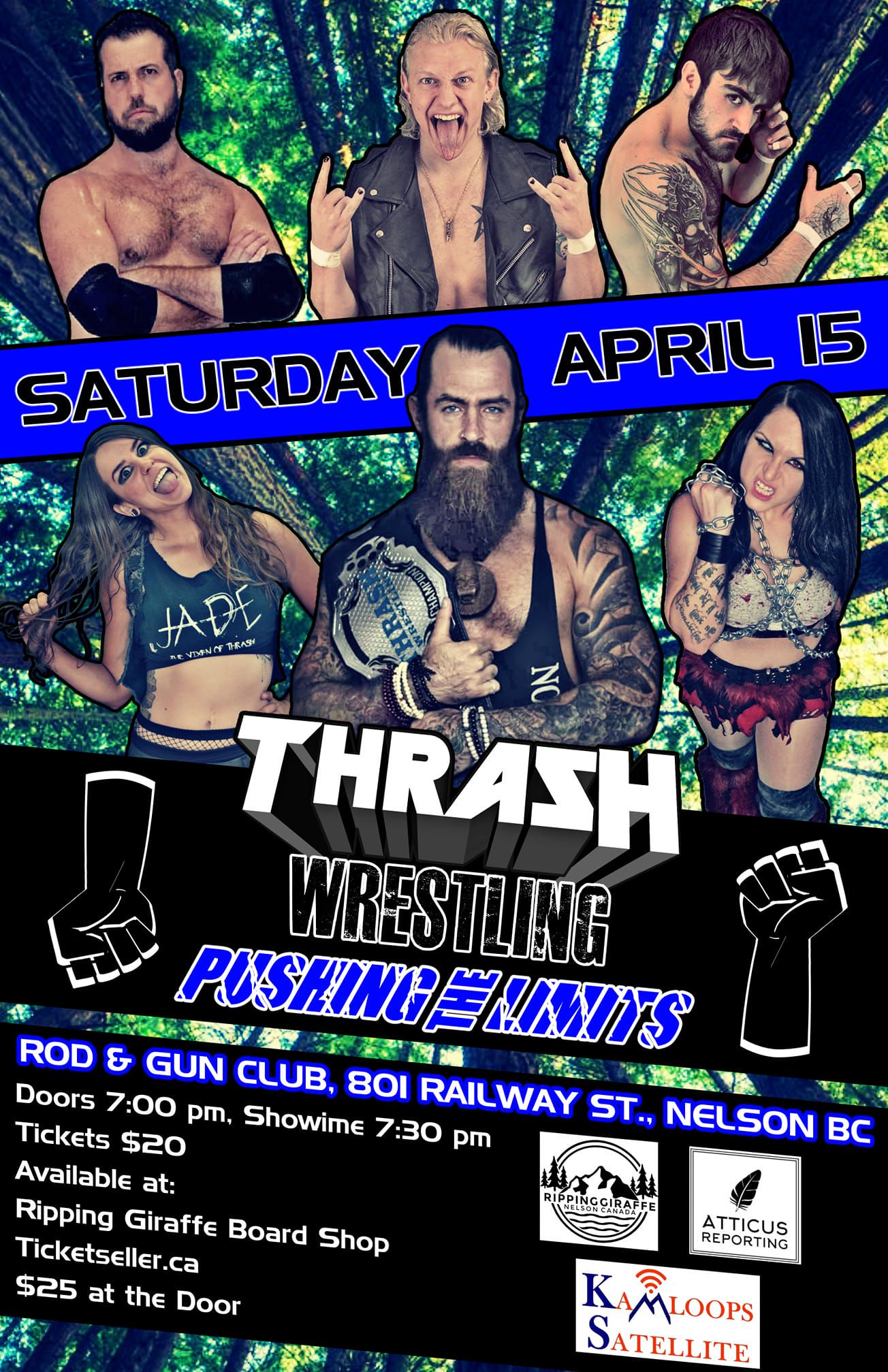 Thrash Wrestling "Pushing the Limits"
Thrash Wrestling is coming back to Nelson, BC! After last summer's success, why not follow up with another event even more awesome?!
Returning to action, Thrash Wrestling Champion "The Momentaker" Jordie Taylor, "Vixen" Jade, "One Man Militia" COPE, "Backstage Pass" Braydon Goss, and introducing Riea von Slasher, Davey Deals, "Top Drawer" Michael More, just to name a few!
Thrash Wrestling is BC's best travelling wrestling show and always brings fun for all ages, with the unpredictable twists and turns you expect from a great wrestling show!
Don't miss out on our triumphant return to the Kootenays!
Tickets are $20 and available at the Ripping Giraffe Boardshop or online at <a class="gmail-x1i10hfl gmail-xjbqb8w gmail-x6umtig gmail-x1b1mbwd gmail-xaqea5y gmail-xav7gou gmail-x9f619 gmail-x1ypdohk gmail-xt0psk2 gmail-xe8uvvx gmail-xdj266r gmail-x11i5rnm gmail-xat24cr gmail-x1mh8g0r gmail-xexx8yu gmail-x4uap5 gmail-x18d9i69 gmail-xkhd6sd gmail-x16tdsg8 gmail-x1hl2dhg gmail-xggy1nq gmail-x1a2a7pz gmail-xt0b8zv gmail-x1fey0fg" tabindex="0" role="link" href="https://l.facebook.com/l.php?u=http://www.ticketseller.ca/?fbclid=IwAR0iAvN6Q4FBoLU9uMXb-QoEP4S1ElOGnMFfUCMmJZKRA3X-dSK8jdKJVFA