A new graphic memoir recounting Steve Martin's film career includes an anecdote about the shooting of Roxanne in Nelson in 1986.
In the book, illustrated by New Yorker cartoonist Harry Bliss, Martin says he "had a great time" shooting the film with Daryl Hannah and Shelley Duvall, although he got tired of people commenting on the prosthetic nose he wore.
Martin says at one point he had to use the washroom and was "pointed to a dusty saloon with sawdust on the floor" that was empty but for two members of a motorcycle gang.
(While the bar isn't named, it was probably the Civic Hotel on Vernon Street, now Finley's Bar and Grill, which had a rough reputation at the time.)
One of the bikers cracked a joke that Martin never forgot: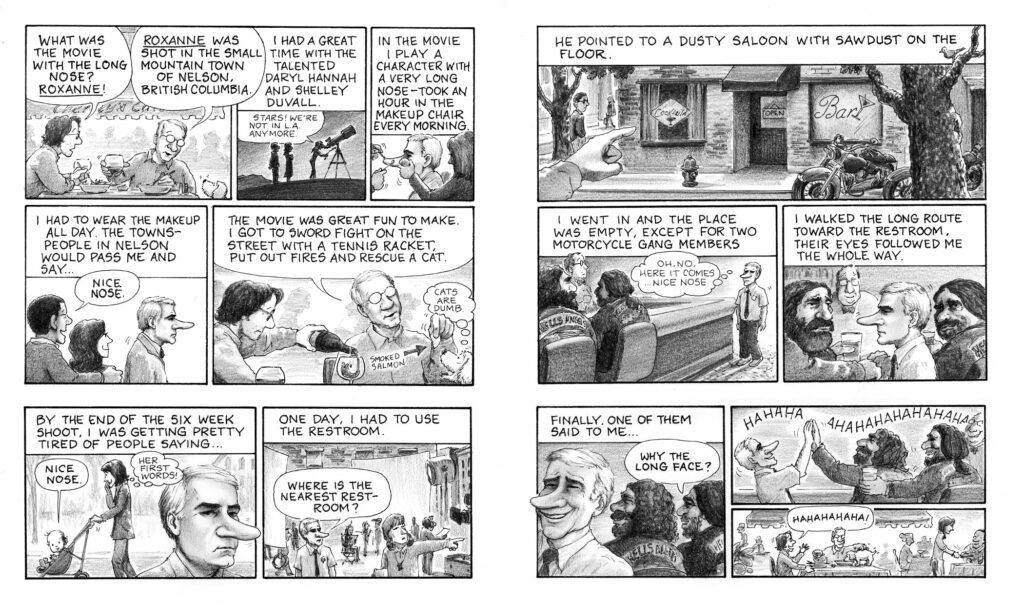 However, this also poses a slight mystery.
In 1997, Martin published a book that included his screenplay to Roxanne.
In one famous scene, Martin's character comes up with insults for his own nose to rebuke a drunk who can't come up with anything better than "big nose." (The speech echoed something from Cyrano de Bergerac, the play the movie was loosely based on.)
Although the movie features 25 insults, the script has 32. Among those that did not make the cut:
Sad: Oh, why the long face?
Did Martin add it to the script based on his encounter with the bikers? Or is he misremembering something? It's unclear. The screenplay reportedly went through 25 drafts, but the one included in the book is not numbered or dated. However, it came after Nelson was chosen as the shooting location, for the town is explicitly described as "Nelson, Washington."
Martin and Bliss appeared this week on The View, where Martin retold the same anecdote. You can watch it below.