Nelson's police chief says an officer killed in an avalanche was a family man and a dedicated member of the community.
Cst. Wade Tittemore, 43, was touring the backcountry when he died Monday in a slide near Goat Range Provincial Park north of Kaslo. Cst. Mathieu Nolet, 28 was critically injured.
Chief Donovan Fisher says it is difficult to lose officers in any manner, but this is especially tragic. 
"The two officers were skiing when they were caught in an avalanche and swept down the mountain," Fisher says. "Officer Nolet was rescued sometime later by others who happened to be in the area, who then provided first aid. After a furious search, officer Tittemore was located but succumbed to his injuries on the scene."
Fisher acknowledged the impact Tittemore's death will have on the police department and the community.
"Wade was a hard worker, a skilled officer, and a dedicated family man," Fisher says. "He was a mentor, and an example to many of our junior officers. He'll be missed terribly by all of us."
According to Fisher, Tittemore began a 15-year policing career with the Calgary police department and transferred to Nelson four years ago. 
Fisher says Nolet is still in critical condition with several broken ribs, bones and suffering from other internal injuries.  
"I spoke to Cst. Nolet in the hospital. Given the circumstances and his injuries, he is doing as well as can be expected," he says. "As a force, we are doing everything we can to assist in his recovery. He currently has family on route from Ontario."
Fisher said Nolet also began his career with the Calgary police service and after a year transferred to Nelson to take advantage of the outdoor activities. Nolet has been with the Nelson department for approximately one year.
Fisher says the impact of this tragedy is real, and it will take time for the community to heal. 
"We are a small police force, with a true family dynamic," he says. "This tragedy is devastating to us, here in Nelson. These are fine men, and fine officers. The whole community is hurting." 
Fisher says support for officers who need it has been in place since the tragedy. 
"Most of the officers came into the department last night," he says. "We are currently working on a support team made up of officers that are experienced in delivering matters after a critical incident."
He says part of that support is thanks to the RCMP.
"I'd like to thank the E division RCMP, specifically southeast district RCMP," he says. "They stepped up and are covering all the calls in the area for today to allow our members to grieve."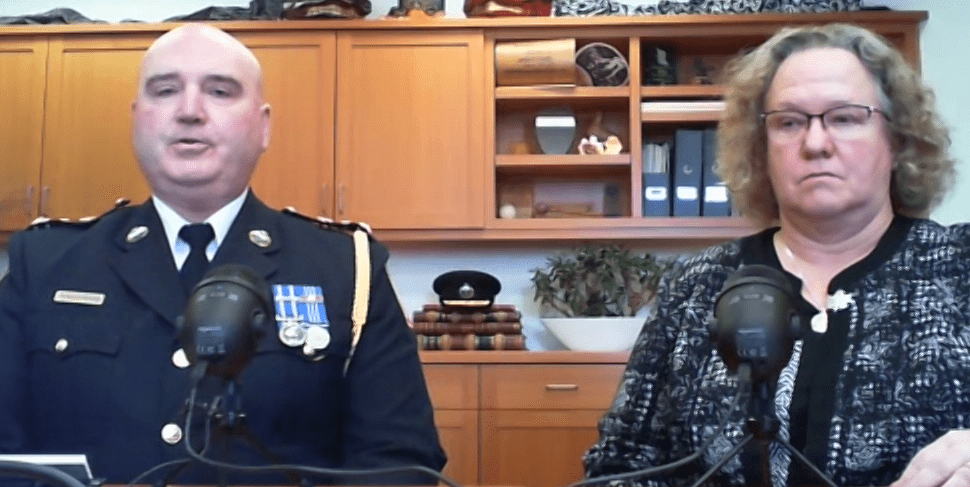 Mayor Janice Morrison offered her condolences on behalf of the city and council saying losing an officer like this impacts everyone in the community.
"Nelson is one of the smallest communities in the country to have its own municipal police force," she says. "This tragedy has hit us hard, and our thoughts are with the family of Tittemore, and Cst. Nolet."
Morrison says the contribution these officers have made to the city is greatly appreciated. 
"Flags in the city are at half mast," she says. "Both of these constables have dedicated their lives to public service, and to the protection of our community. We can't thank them enough for that."
Morrison says the Nelson police force is an integral part of the city's history, so the loss is deeply felt.
"This police force has been here since before we were incorporated as a community," she says. "We have depended on them for many challenges over the years, and it is with heavy hearts that the whole community feels this loss."
Prime Minister Justin Trudeau also offered his condolences on social media:
I'm incredibly saddened to hear about the death of a police officer near Kaslo, British Columbia yesterday. To their family and friends, Canadians are with you. And to the officer who was injured, we're wishing you a fast and full recovery.

— Justin Trudeau (@JustinTrudeau) January 10, 2023
Funding to help the family through this difficult time is currently being considered and details will be released later. 
The City of Nelson has asked for letters of condolences be emailed to the Tittemore family.