A former senior hockey player with the Nelson Maple Leafs has been included in a new set of hockey cards honouring NHL players with Indigenous roots.
Johnny Harms played for the WIHL Leafs from 1950 to 1952, recording 22 goals and 42 assists in 62 regular season games.
He previously played 44 games for Chicago in the NHL from 1943-45 and earned a curious distinction by scoring his first three goals in the Stanley Cup final before scoring his first regular season goal. Harms went on to become a mainstay of the Vernon Canadians of the Okanagan senior league, captaining the team that captured the 1956 Allan Cup.
Unacknowledged during his playing career was that Harms was born to a Cree mother.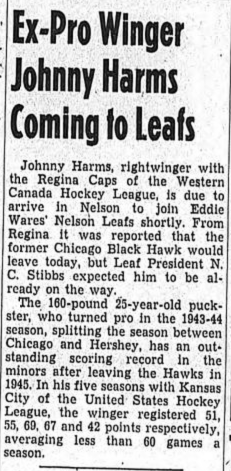 Harms never appeared on a hockey card in his playing years, but now he's one of eight players in a series from Upper Deck called the First Peoples Rookie Cards.
"My family is pretty thrilled about it and we're celebrating it for sure," says his daughter Catherine Connell, who lives in Armstrong. "The card is just fantastic."
Connell says Harms' inclusion in the set began with co-creator Naim Cardinal, who is Cree, and spotted his photo online.
"It's almost an annual event where there's a picture and article about the Allan Cup winning team from 1956," Connell says.
Connell explained that Cardinal got in touch with her and explained that Upper Deck wanted to include him in the set of Indigenous players who never had their own card.
"And they went ahead and did it. They did a wonderful job. It's a beautiful thing."
The card itself depicts Harms in a black-and-white photo his family had never seen, wearing his Chicago sweater. Jacob Alexis of the Alexis Nakota Sioux Nation designed the cards and Cardinal wrote the text on the back.
Harms was born in Saskatchewan in 1925 to John Laird and Helen Haubeck, but never knew his biological parents. He was adopted and raised by a Mennonite family.
He began his professional hockey career in Hershey, Penn. in 1943 and was called up later that year to Chicago. He spent most of the 1944-45 year with the big league club, followed by five solid years with a minor league team in Kansas City.
He began the 1950-51 season with a senior team in Regina, but his former Kansas City teammate Eddie Wares enticed him to come to Nelson, where Wares was the playing coach.

"Johnny dropped no tears about leaving Regina," the Nelson Daily News reported. "He related that Regina was losing and the fans really get down on them there."
The newspaper said the general reaction in Nelson to the announcement Harms was on his way was "almost a feeling of disbelief. Many of the locals are saying 'I'll believe it when he gets there.'"
But get there he did. Harms was a solid addition during his two years in Nelson., playing right wing on what was dubbed the H-line with Bill Haldane and fellow NHL alum Fred Hergerts. Harms and wife Donna lived at 409 Silica Street and in 1951 welcomed a son.
Afterward the family settled in Vernon where Harms became an electrician/lineman with BC Hydro. He was inducted into the BC Hockey Hall of Fame in 2002, not long before his death at 77. However, his daughter says he didn't speak much about playing in Nelson, or in the NHL for that matter.
What Connell knew of his hockey career was mainly from her mother and a scrapbook that a friend of his made. Despite all of the articles it is filled with, none of them mentioned his Indigenous heritage.
Connell says Harms never tried to hide it, but he felt disconnected from it.
"He tried to gain status, but he couldn't because when an Indigenous woman married a non-Indigenous man, she lost her status," Connell explains. "It was very difficult for him. He never did get it."
While his family background was not necessarily well known during his playing career, Connell said Harms' looks were enough that "he did experience racism in Chicago while playing and also in Vernon."
As for the belated rookie card, Upper Deck presented Harms' family with 25 sets of all eight cards, plus 500 individuals of Harms' card and two large photos of the card.
"I'm handing out the cards to anyone who's Indigenous and/or a hockey fan," Connell says. "My grandson has some at his school in Victoria. It's pretty special."