On Aug. 31, community members gathered at Lakeside Park in honor of International Overdose Awareness Day.  
Harm reduction organizations, first responders, community leaders and families were in attendance, educating themselves and others about the different local resources available to both substance users and their families. 
Recently, the province's coroner's report identified 1,455 toxic drug related deaths since the beginning of 2023, with 253 from in the Southern Interior region.  
Amanda Erickson, the region's fentanyl task force facilitator and community co-ordinator with Ankors, a harm reduction organization in Nelson,  spoke on the alarming number and how the community needs to keep pushing for solutions and advocacy for those affected by the toxic drug crisis. 
"We need to do better as a community and a province to prevent needless death, to support families and youth to stay safe from toxic drug poisoning. We must keep advocating for our rural populations to have the best care available. We need to keep fighting for the resources and workers to turn this around and work together collaboratively." 
Erickson says harm reduction and ending the stigma is the first step in finding a solution. She explained that individuals affected by drugs, users or family members, need to feel safe to advocate for themselves or their loved ones.  
"By breaking down the stigma, it will allow us to reach out to our family and friends if we're struggling ourselves and help us to fund resources or to support others that we might know that could be struggling with substance use, to make sure people feel safe to move out of the shadows and into the light and find supports."  
In terms of harm reduction, Erickson explained that resources such as naloxone kits are essential to prevent toxic drug related deaths and encourages all community members, drug users and non-drug users alike, to ensure they have one and know how to use it.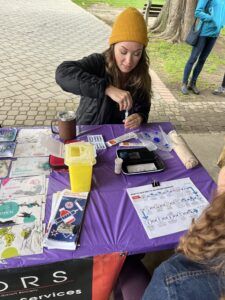 "Naloxone is free and can be picked up at the pharmacy. It's very important for everyone to carry one and know how to use it because if you don't need it for yourself, you might need it to save someone else's life." 
Also in attendance was Nelson-Creston MLA Britney Anderson, who gave an emotional tribute to families and victims affected by the toxic drug crisis in her constituency. Anderson emphasized that change has to start with community. 
"As a small community, we are so interconnected, and we all have to take care of each other. This impacts all of us. There are parents that are here today that have lost their kids. There are siblings that are here today, there's friends, there's service providers that are doing mind blowing work every single day to keep our community safe," said Anderson.  
"This is not about parties, it's not about politics, it's about helping our community. As I just look around here, there's so many people that have been involved on so many different levels and impacted, and my heart goes out to you." 
The event closed with a poem from Tiffany Thiel, a member of the Rural Empowered Drug Users Network.  
"Harm reduction is love that stands with awe at the hardships that people carry rather than standing in judgment on how they carry it. Harm reduction is our community. Harm reduction calls people by name. Harm reduction is love that stands for the hardships that people carry rather than standing in judgment how people carry it. It is a proclamation that you are needed, you are wanted, you are loved, and you are worth it."